The Movement - part 3
August 7, 1998
Previous page
Next page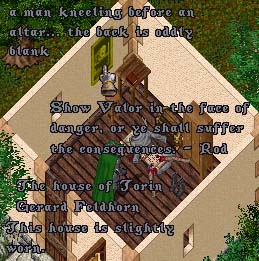 Torin, whose complete name was Torin Gerard Feldhorn, was completely dead, too. However, his house was full of interesting clues :
A portrait of a very strange man.
A map, showing the Shrine of Sacrifice.
A note, related to the murder committed and its reasons.
A chest, containing sacrifical candles.
An armoire, with the folowing items.

The head of Aragoth.
The code, probably from that mysterious organization, "The Movement".

And message delivered by a pigeon. The message being very mysterious, I decided to publish it completely below.